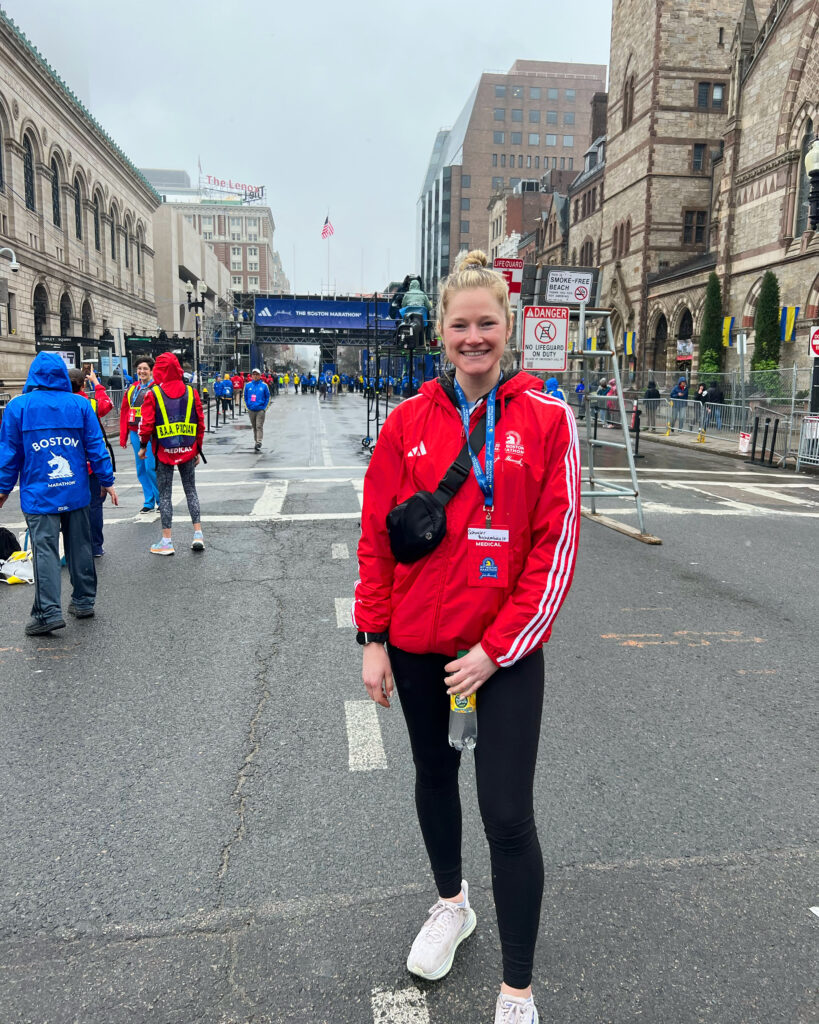 April 17th 2023
My Experience as a Physical Therapist at the Boston Marathon
I had the honor of volunteering for the Boston Marathon this year as a medical volunteer. We started our day with check-in at 7 am and wrapped up close to 6 pm. I logged 8 miles of walking, needless to say, it was a busy one!
Prior to the marathon, you are required to complete educational modules to prepare you for the day, on top of your credentials and is CPR/first aid certified. We started the morning by meeting our team and listening to speakers who spoke about our roles at the marathon, as well as people sharing their experiences of needing the medical team while running the marathon.
Medial Sweep Team
I was a part of the medical sweep team, triaging patients from the course to the medical tent. Meaning I was just beyond the finish line, not in the medical tent but on the course. After you complete the marathon, you have to walk ~3 blocks to get to the family waiting area. In those blocks are water, bathrooms, warming buses (it was a cool day), part of the medical team, and on of the medical tents.
I looked for people who were in need of care and guided them to the medical tent. I had a teammate with a wheelchair near to help transport runners in need of care. Although I carried an AED (the device you use to "shock" a person) all day, I was lucky that I did not have to use it as I did not have someone in that critical of care.
The weather was cool, and rainy so we did not have to worry so much about hyperthermia or heat exhaustion. The runners that I was transporting were experiencing muscle cramps, nausea, dizziness, and lightheadedness.
Overall I really enjoyed being able to assist runners to get the care they needed. It was a very busy day, but very exciting and rewarding to see so many runners achieve such an accomplishment. It was really moving to hear their stories of why they were running the marathon. I look forward to volunteering again next year!
Planning to run a marathon? Or start running in general?
I work with many marathon runners to program their strength training and running, as well as building beginners from not running in years back to running regularly. Check out my options to do personal training with me, in Boston, or virtually anywhere.
Is injury holding you back?
Check out my physical therapy offerings to get you back to running.
Want to find other races?
Check out all of the Boston Athletic Association races here.